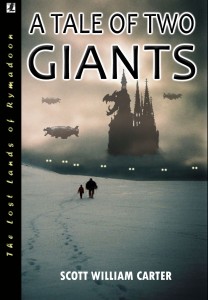 I'm pleased to announce the publication of my latest novel, a fantasy aimed at younger readers (or the young at heart) called A Tale of Two Giants.  It's set in Rymadoon, the same world where I've set Drawing a Dark Way, though this one is in a different Lost Land — Mana Thune.  (I've deliberately set up Rymadoon so there's lots of stories possible, some of which will be connected, others which will exist more independently.)
Right now, it's only available as an ebook, but the paperback will follow from Flying Raven Press in a couple of months.
Here's more about the book:
You don't have to be tall to be a giant.
They meet on a rainy night, penniless and alone, both of them without a friend in the world. He's a disgraced, down-on-his luck giant, short for his kind, banished forever from his tribe. He just wants to be left alone — and pity the poor person who annoys him.
She's a stubborn human girl whose mother has been kidnapped by a evil dictator — and she's determined to get her back. No matter how long it takes. No matter who gets in her way.
Together they take on an empire.
*****
Grade 4-9; In this intriguing fantasy about two outcasts on a remarkable journey, Carter offers up a riveting adventure that should appeal to fans of J.K. Rowling's Harry Potter series or Rick Riordan's Percy Jackson books. Although this book stands on its own, readers may want also want to try Carter's first foray into his Lost Lands of Rymadoon series, Drawing a Dark Way.
Buy the ebook today: