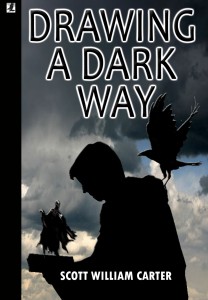 I'm pleased to announce that my children's fantasy, Drawing a Dark Way, is now available as an e-book.
The paperback will follow in a few months, but until then, the ebook is available at the sale price of only $2.99. So if you Kindle or Nook owners are looking for an affordable fantasy for young readers, please give this one a shot.  You can read more about the book here, as well as read the first chapter.  It's available right now at Amazon and Barnes and Noble.
If you follow those links, you'll see that I've done something a little different with this book.  Since some of my other books and stories aren't always appropriate for younger readers (this one is aimed at 9-12 year-olds), I created a new website at www.rymadoon.com.
What is Rymadoon?  Well, it's a fantasy world, of course, but there are lots of Lost Lands in Rymadoon.  This one is set in Nogero.  There are many more stories waiting to be told in the Losts Lands of Rymadoon, some in Nogero, some in other places.  Not all of my children's books will be set here, of course, but many will be, and I will still use the Rymadoon site to keep track of all of these books for my younger readers.